We have introduced the Five Foundations of a Contemporary Destination Organization to measure and understand the true impact of the visitor economy beyond the antiquated marketing-focused KPI.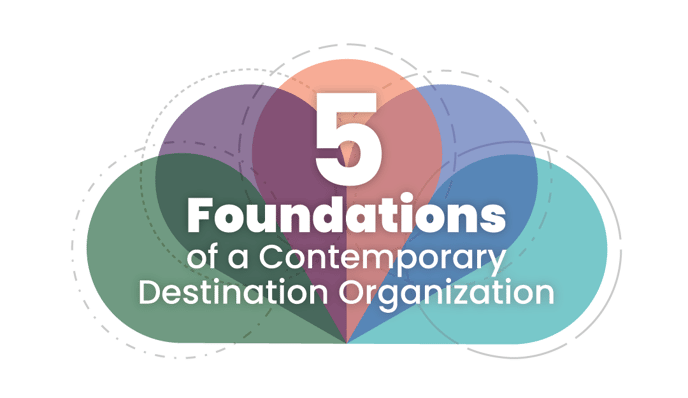 Have you felt the shift from Destination Marketing to Destination Management in your organization? We saw this shift rapidly in our partners pre-covid and post-covid and now hear it more and more throughout the tourism and destination management industry. To help you evolve your strategy beyond traditional reporting metrics focused on visitor demand, we've introduced a framework to align strategic objectives and program goals around Five Foundations for team alignment and effectiveness.
What is the Five Foundations framework?
The 'Five Foundations are an open-source framework of standards for Destination Organizations to adopt and integrate. They are built to empower destination leaders stewarding their visitor economies in alignment with resident quality of life and community objectives.
How do I use the Five Foundations to understand my visitor economy?
Maximizing the number of visitors within the available carrying capacity of your destination requires a careful balance between demand generation and economic opportunity. ZDOS 3.0 has several modules to help you maintain balance between those two outcomes. Too much demand, or demand too tightly packed in too small of an area, undermines your resident quality of life and the visitor experience. Too few visitors and the economic flywheel of visitor spending can't spin reliably and the economic prospects are anchored by the resident spending capacity.
You have essentially four levers to pull to regulate the visitor economy:
Who you are marketing to and attracting to your destination (Demand Generation)

When you encourage visitation (Visitor Distribution)

Where the visitor spends their time and money on their visit (Visitor Distribution)

How a visitor spends money while in your destination. (Economic Opportunity)
The best way to understand these new modules is by thinking through the key questions you wish to answer through ZDOS.
Where do I see the Five Foundations in the ZDOS®?
The Five Foundations serve as just that, the foundation of how the new 3.0 modules and insights were designed. We hope you will see these five foundations throughout the ZDOS® as our response from what we have learned is most important to our partners.
You will see several modules built specifically around one of the foundations as well as the overall structure serving you to achieve accountability and stability.
ZDOS® is built around the Five Foundations
Destination Snapshot Module: The Destination Awareness module and Director's Briefs are both aimed at providing fast-moving, situational awareness for the destination. In this module you will see a high-level view of your visitor economy with our YoY Index and quick looks at how your hotels are doing, where your visitors are coming from, and how your visitors are spending.
Demand Generation Module(Standard Packages): See the strengths of your origin markets, so you can better tailor your marketing efforts. Our new Market Index combines several metrics to show you which origin markets are most valuable to you. Then see your visitation by origin market, and each market's % of visitation, % of overnight visitation, average spending, and seasonality. See what activities your visitors engage in, and whether those activities bring in overnight visitors or increased spending. Learn more about Demand Generation here.
Visitor Distribution Module (Standard Packages): See how you can distribute visitors to needed areas and away from hotspots, so that you can equitably manage visitation throughout your destination. Use these insights to see where your visitation is concentrated, where your Visitor-to-Resident Ratio is high, where you have unsold hotel inventory and seasonal shifts in visitation patterns. Learn more about visitor distribution here.
Economic Opportunity Module (Standard Packages): See the full impact of your visitor economy, so that you can communicate to media, residents, elected officials, and stakeholders the value of your destination's tourism industry. Use these insights to see tourism-related taxes, all the different ways visitors spend, and jobs supported by visitor spending. Learn more about economic opportunity here.
Destination Management Module: See a snapshot of the health of your visitor economy, so that you can interpret the breadth of your visitor economy and communicate it to stakeholders.__ See visitation from your top Visitor DMAs, along with our Visitor-to-Resident Ratio to get a feel for the density of visitation in your regions. Find out how visitation to your different POI categories changes over the year. Understand the average visitor spend in different categories, how much they make up of the total spending for each category, and what categories they spend the most on–what we call "Share of Visitor Wallet." And finally, see how many jobs are directly supported by leisure & hospitality.
Accountability: Within the Zartico Destination Operating System®, our advisors configure specific goals for program performance against the top-level strategic objectives. When encompassed within the Executive Brief, this becomes a shared scorecard for a DMO's accomplishments, generates alignments against key objectives, and provides clearer talking points for the DMO to share with stakeholders. Other DMO partners have created a board module—a subset of their Zartico OS modules—on which the board can login at their convenience and see performance against goals. This board module generates deeper, more meaningful engagement among boards and staff.
Stability: Gaining and maintaining funding, support, and positive impact from your visitor economy. Higher levels of trust in the visitor economy and community goals reinforces the value of greater financial support of the DMO. Stable funding and strong partnerships allows for long-term plans to grow the visitor economy as opposed to constantly playing defense to protect budgets.
Need more help? Talk to a real human.