Travel is inherently a place-based experience.
The Zartico place-based strategy is comprised of the individual places and primary reasons people visit your destination. These would be considered the major drivers of tourism or places of impact (i.e. conferences, stadiums or attractions). Contextual points of impact bookend the primary points with groupings of categories that comprise your visitor economy (i.e. hotels, restaurants, etc.).
Zartico partners receive unlimited access to this proprietary place-based strategy comprising over 150,000 POIs across the country and growing by over 4,000 new POIs each month. Zartico's Destination Operating System leverages the highest frequency and highest resolution data available, allowing destinations to see in near real-time the patterns created by visitors and residents alike as they move throughout and experience a destination.
When you start with Zartico, we use our place-based strategy to leverage location data.
To make sure your account is set up to give you the clearest view of the visitor economy for your destination, we want to take a minute to explain how it all works. We'll introduce our place-based strategy and explore how to think about your destination's points of interest (or POIs) as we call them. Then we'll talk about how to arrange these places into groupings based on location.

Zartico's place-based strategy is the foundation of the way we can leverage the data we have to make it work for you to create great insights into your destination. It's crucial that you understand this because we will need your help as the experts on your destination.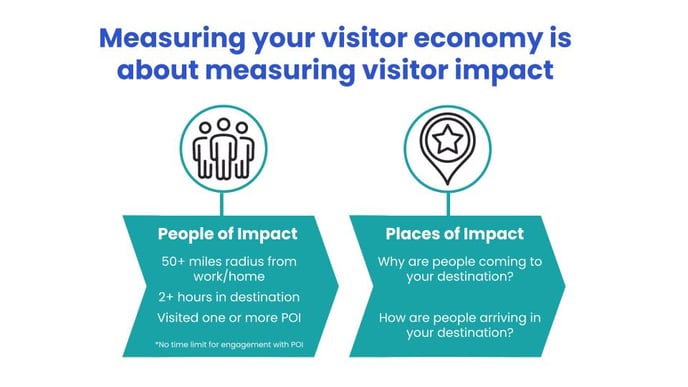 You want to measure your visitor economy, but what does that mean? Not every person who comes to your destination has an impact on your visitor economy, for example that person who goes to visit Grandma but doesn't leave the house while they are there. We want to measure impact– People of impact going to your places of impact to understand your visitor economy.
Because of this, we have really specific criteria for how we count someone as a visitor. They have to come from over 50 miles from where they live, stay for more than 2 hours in your destination, and have visited at least one place of impact.
Your places of impact are designed to help you fully understand your visitor economy. Both those places you promote on your website and those additional places a visitor spends time and money while in your destination.
To get the information we will gather information from a variety of sources on the individual places in your destination that are major drivers of tourism. Your national parks, event venues, museums, convention & event centers, resorts, state parks attractions and so on. This list of places is informed by our work with over 190 destinations large and small, rural and urban. We gather these places from a variety of sources, like the National Park Service, our Predict HQ event data, TripAdvisor and even your website. These are what we call your primary places of impact and are the reasons people plan a trip to your destination. We want you to be able to track these places by name as individual places of interest.
We add to this list the places where visitors spend money and the rest of their time while in your destination. These are hotels, restaurants, retail places, parks and so forth. This is where most of the economic activity related to travel happens. We want to be able to track these using a sample of places and grouping them together into categories – we don't need to track every single place for these categories to be meaningful to you – and we make these available in the platform by category. Should you need to see these places individually, as in a convention visitation analysis, for example, we can always include these as individual places in a dynamic visualization. For your day-to-day analysis, you're best served looking at these as a group.
Just as a reminder, we have a strict privacy policy that extends to even what POIs can be added into your system, such as medical and mental health facilities of certain types.
We ingest location data from our data partner every single day, and we're able to take this high-frequency information and use it to help you. This data registers someone's location by where their device, such as a phone, is at any given moment throughout a day using GPS coordinates that are registered through the apps they use with location-sharing turned on. It all goes through privacy protection, but we are able to know where that person is from, and then we have data about any time they enter your destination, where they go while they are there, and how long they stay.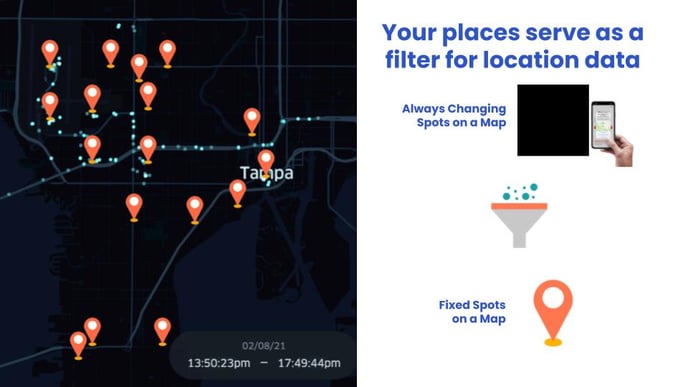 We then take this data and filter it through the information about the places and areas in your destination. The visitors coming to your destination are always changing– they are moving spots on the map, but by having your places as fixed spots on a map that we know to track, we can leverage all the data of where visitors go by filtering it through your places of interest. This gives you great insight into where people go and how many.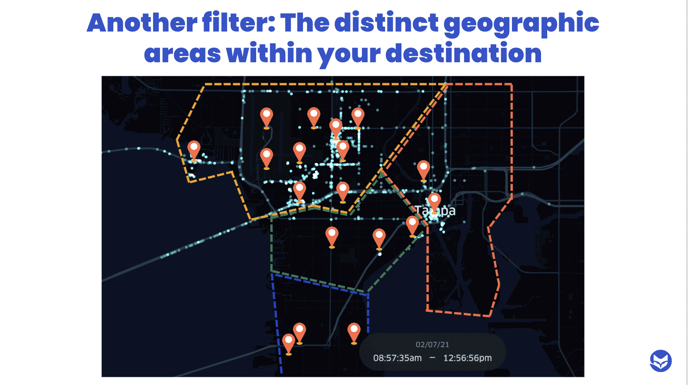 Another filter we use is to group these places together into larger areas to see how visitors travel around from area to area. To create this filter you will be dividing up your whole destination into sections. We'll work together on defining these, but the most important thing for you to remember is that this will all work best if every corner of your destination is contained inside a region.
Important to note, though: Even though we want you to divide up your whole destination, it's really about capturing the visits to places and then filtering them by the area those places are found in. Instead of thinking of this as invisible lines that people cross over in your destination, think of it as a way to divide up what places belong to what area.
Important to note: Your county and city boundaries are also automatically brought in for you, so you don't need to divide up your destination this way in your work for us.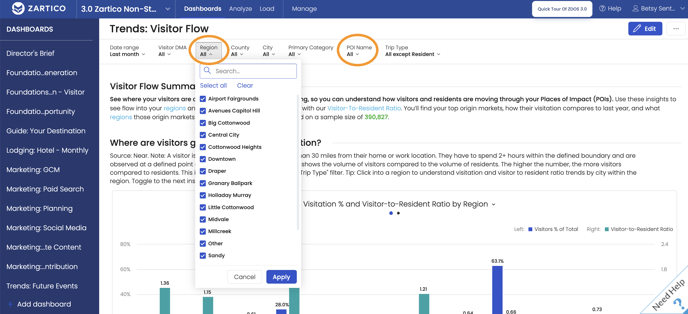 What does this look like at the end of all this work? Among other things, these become dropdown filters at the top of your location data modules, so that you can really narrow in on visitor movement and behavior.
You win when you have a strong list of POIs and well-defined regions.
When you work with us to refine your points of interest and make sure that your location hierarchy is detailed, it will yield great insights from your data, giving you the clearest view of your visitor economy.
Want to find out more about your POIs?
Interested in more information on your POIs in the ZDOS? Read this article on FAQs on refining your POIs to find out important details!
Need more help? Contact us here.