Learn what can and can't be gleaned from OOB POIs in ZDOS and through your strategic advisor.
Out-of-boundary (OOB) POIs give you insights into specific places that may be outside your boundaries yet impact your destinations visitor economy.
What is an OOB?
Points of Interest that aren't within your destination's boundary are called "Outside Of Boundary POIs" or OOBs. With your Zartico contract, you get a certain amount of them, and you will be asked to determine these during your Implementation Process.
Are OOBs found in the OS?
Yes. While OOB metrics are not included in the data throughout your modules, you can find two insights specifically for your outside influencers at the bottom of your Trends: Visitor Flow module.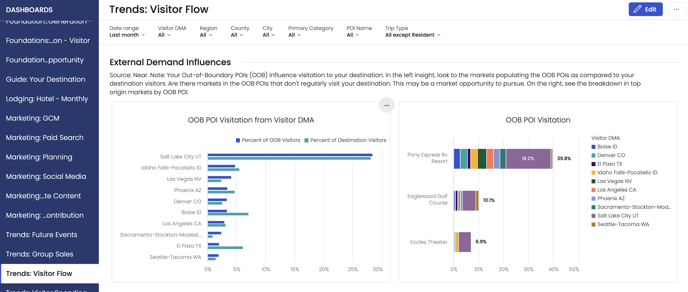 Will they skew our overall visitation numbers?
No. Your OOB metrics are filtered out of the numbers in your operating system so they do not skew data showing visitation to your destination.

What insights can we get on OOB POIs?
You advisor can do a deep dive and answer specific questions about the impact of an OOB to your destination, but we have two specific insights in the ZDOS located in your Trends: Visitor Flow module.
The OOB POI Visitation from Visitation DMA shows were a visitor is coming from. This insight looks at the markets populating the OOB POIs as compared to your destination visitors. Are there markets in the OOB POIs that don't regularly visit your destination? This may be a market opportunity to pursue.
The OOB POI Visitation shows you the breakdown in top origin markets by OOB POI. You can click this chart to drill and see the cities in each origin market.

Are we able to see cross visitation from these OOB POIs and other areas?
Your strategic advisor can help you understand the impact the OOB has on you destination through dynamic visualizations. These visualization can show cross visitation and visitor movement within your destination.
Are we able to have an Outside POI that is a city?
No, we are not able to map a city as an OOB POI.
Are we locked in to our outside POIs for the length of our contract or can we switch out in a few months?
We allow for one update to your POI list, including OOB POI, during your contract year.
What are some examples of OOB POIs?
Some examples include airports, convention centers, large event venues, or National Parks.
What if a place extends both inside and outside my destination boundary?
If you have a POI that straddles your destination boundary and is both inside and outside your destination, that will be considered a Primary POI.
I see the OOB and the city in my filter, what does that mean?
The OOB POI name and the city in which it's located will show up in your filters because we have included the OOB insights in the ZDOS. The visitation numbers have been filtered out of all other insights as to not skew the other insights.