Learn what a POI Lens is, and how can it help you in the ZDOS.
What is a POI Lens?
The POI Lens allows you to include a custom grouping of POIs (places of impact) in order for you to view their impact collectively, and as compared to your other POIs.

Why does this feature exist?
The POI Lens was created from partner feedback in wanting to be able to view collections of key points of interest like wineries, beer trails, bourbon trails or top-rated restaurants.
How is the POI Lens helpful?
This tool can be helpful in managing stakeholders (for example monitoring visitation to luxury resorts), tracking visitor distribution efforts (to answer questions like "are we seeing increases in the percentage of visits to off-the-beaten-path destinations?") or distinctive, thematic places (for example a craft beer trail). These places, like the examples listed above are likely not in the top 10 most visited POIs for a destination, so the ability to aggregate POIs into a group and give them special visibility is like providing a magnifying glass to a key subset of your POIs.
Where can I see my POI Lens within the ZDOS?
Within the ZDOS 3.0 you can find the POI Lens within several modules, including Strategic Planning and Website Contribution.
How do I set up or adjust my POI Lens?
We will work with you to set this up or make adjustments as needed.
How many POI Lens' (grouping categories) can I have?
At this time each partner can have 1 POI Lens.
How do I see which POIs are in my POI Lens?
You can see the POIs included in your POI lens when looking at your POI specific chart in your ZDOS®. For example, visitations observed at your key POIs chart in the Marketing: Planning module seen below:

Hover over the blue bar and click to drill: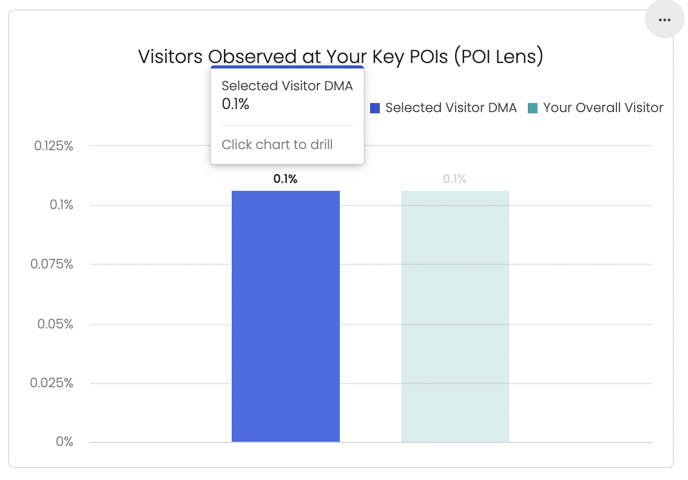 There you will see the list of POIs in your POI lens: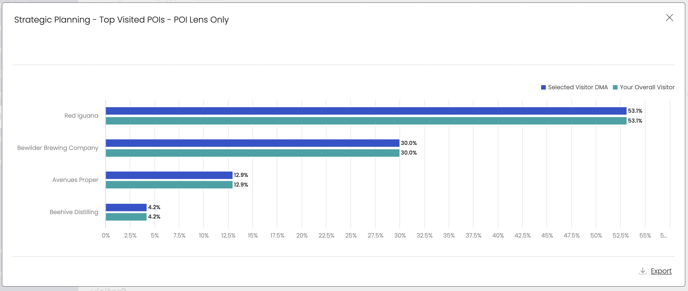 What are some examples of how partners have used their POI lens?
There are several great and creative ways our partners are using their POI Lens, such as:
Track and drive visitation to lesser-visited destinations. In this case the POI lens can help track visitation to those areas over a longer time period.

Track visitation to places they are showcasing in their ad campaigns.

Track their Civil Rights trail.

Track museum and heritage sites.

Tracking key POIs within lower performing counties/cities.

Look at visitation trends of the attractions over specific routes.
Watch this short explanation of the POI Lens.