Want to know how you are doing compared to last year? Learn more about Baselines here!
Baselines allow you to compare yourself to yourself over a period of time. A common Baseline you will see in the ZDOS® is year-over-year comparison. This is showing you your destinations status compared to the same date last year.
Where will I see baselines in the ZDOS?
You will find year-over-year comparisons, "aka" baselines throughout your modules. Most commonly in your Lodging, Marketing and Trends modules.
What does a baseline look like?
There are a several different visualizations for baselines we use in the ZDOS. You will recognize a baseline when it is comparing this year (TY in ZDOS) to last year (LY in ZDOS). Below are two examples of baselines.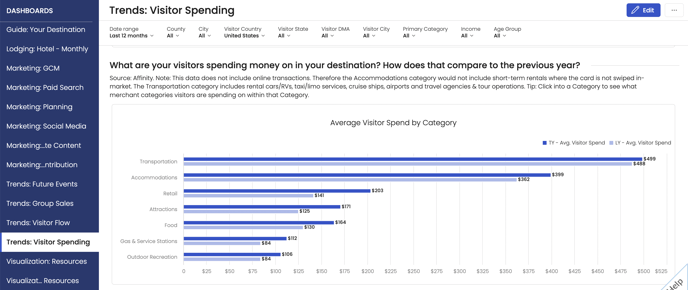 Watch this short explanation of baselines.
Need more help? Talk to a real human.