What's the primary purpose of the Visitor Flow module?
The following overview is from the Zartico OS 2.0.
Understanding where travelers visit and when travelers visit, not only gives an indication of why they visit but also gives your DMO the situational awareness needed to become better stewards of your destination. Contextualizing this with information on events, conventions, and meetings helps you better understand traveler motivation.
What question is this module designed to answer?
Are we managing the volume of visitors by providing abundant opportunities for the businesses in our community, without overloading our community and stressing our residents, or overwhelming sensitive natural places?
What data visualizations are included in this module?
Visitation by Weekday
While you can view the Visitor Volume year-over-year in the Destination Awareness module; here, you can analyze more thoroughly the number of visitors that visit your destination during the week.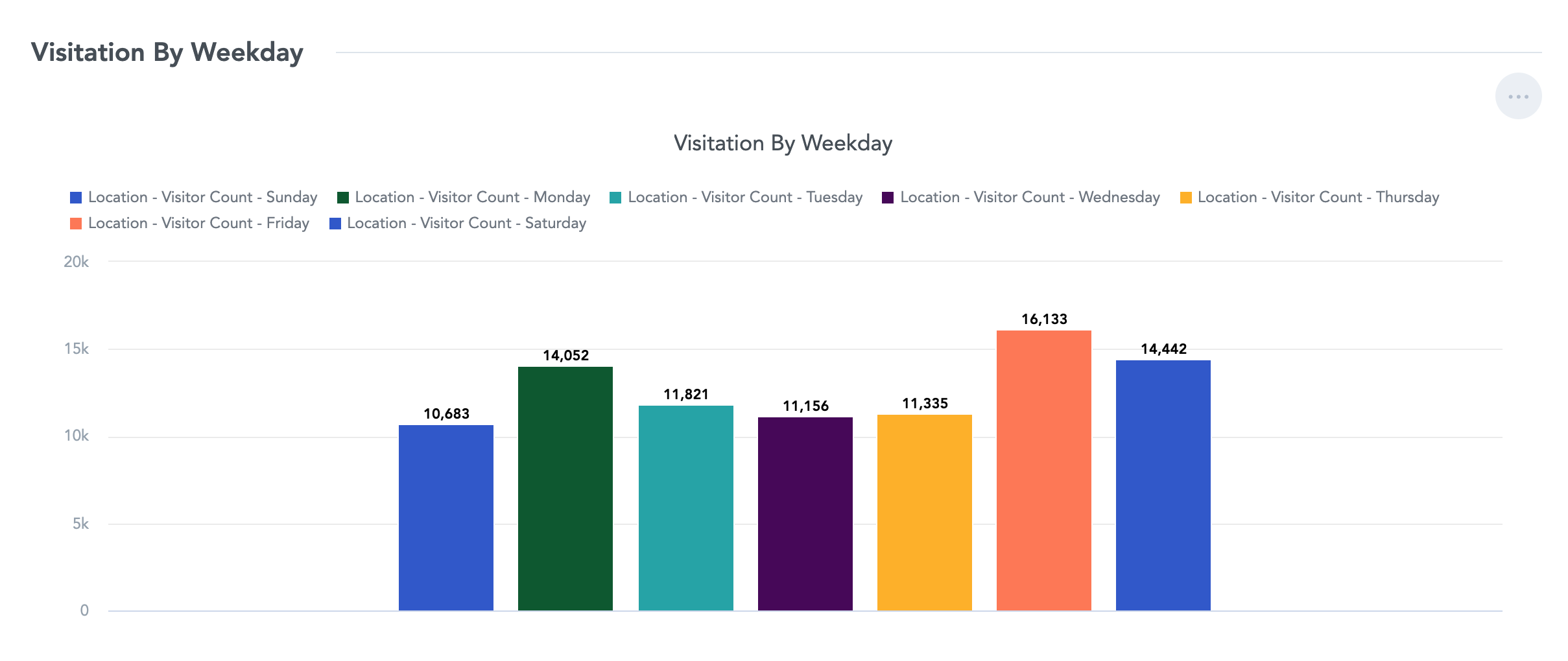 Clicking on the bars will show you detailed stats of weekday trips by trip type.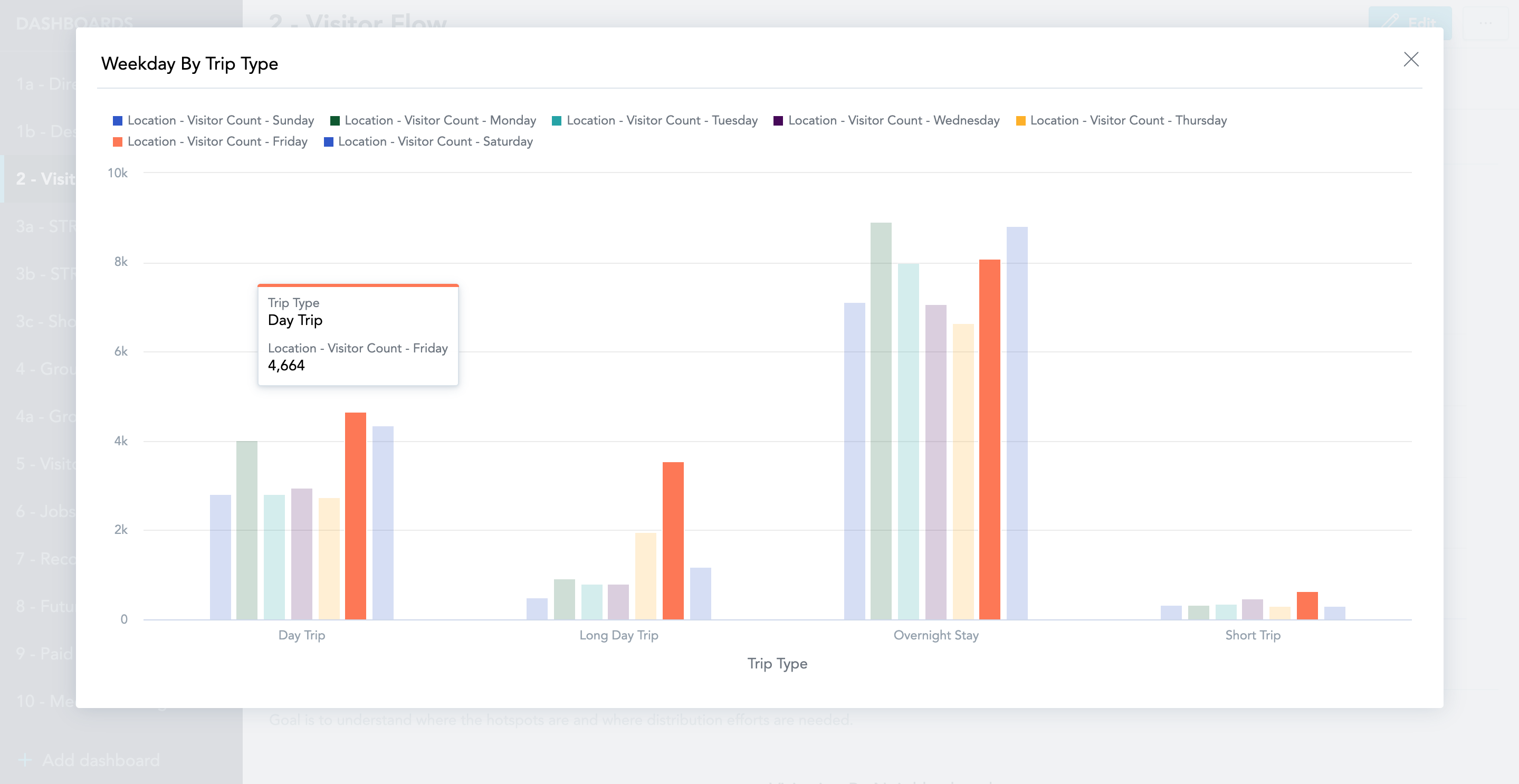 Visitor Distribution
An exciting introduction to the platform is neighborhoods. These are more nuanced than a broader region and present a greater cohesive type of location. We want you to understand the type of visitation segmented by specific neighborhoods. Note: empty value represents areas outside a classic neighborhood.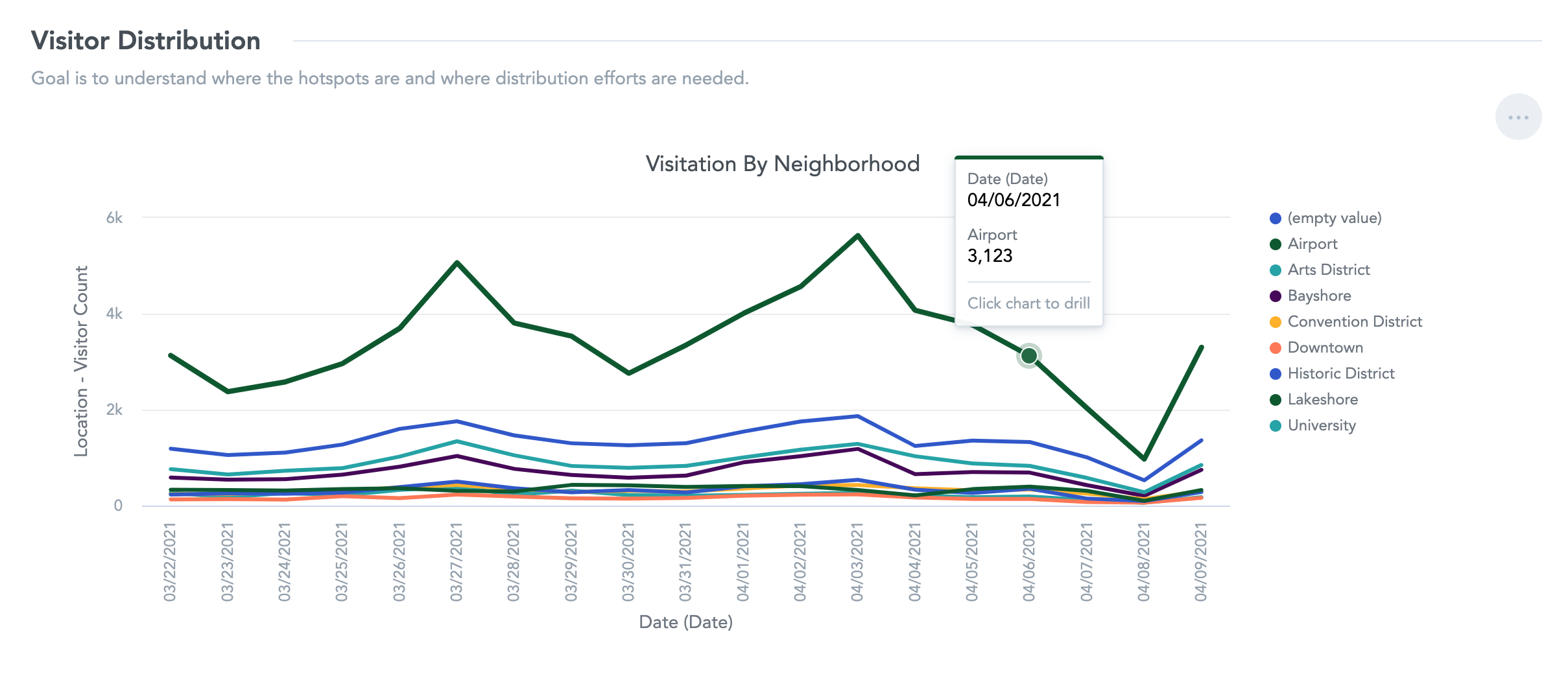 Visitor to Resident Ratio by Neighborhood
The Visitor to Resident ratio by neighborhood will help you determine what is normal visitation or how crowded are specific areas of your destination.

How Do Different Origin Markets Travel to Different Neighborhoods
Are some parts of your visitor flow traveling to one neighborhood or another?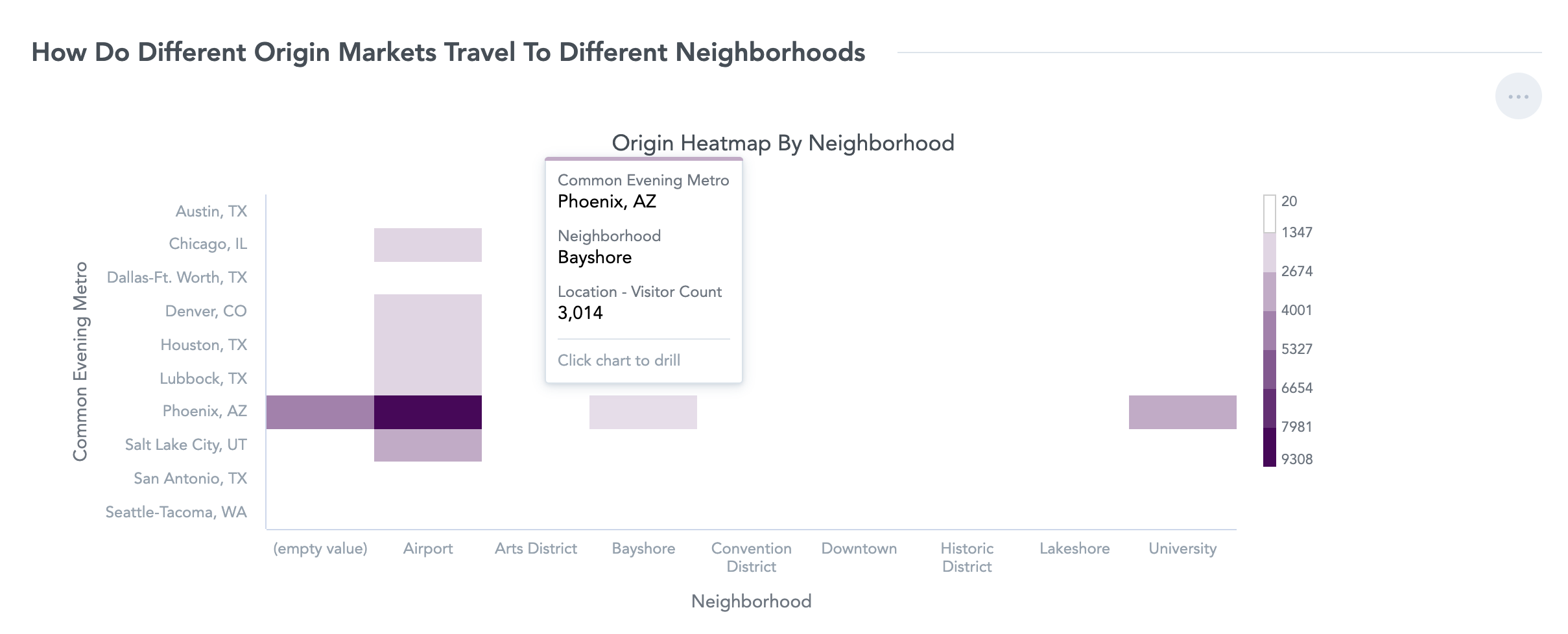 Top Places - Visitor or Resident
Who is coming to your destination? This fun visualization can be used to determine which of your top 50 POIs are highly engaged by visitors and which are exclusively local. The POIs that fall in the middle percentile can inform your stakeholders and become opportunities to grow your total visitation.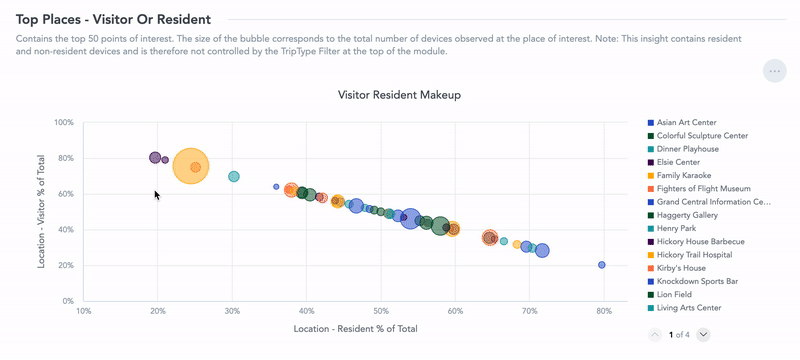 Clicking on bubbles will show you insight into the Top 10 visitor metro areas per POI.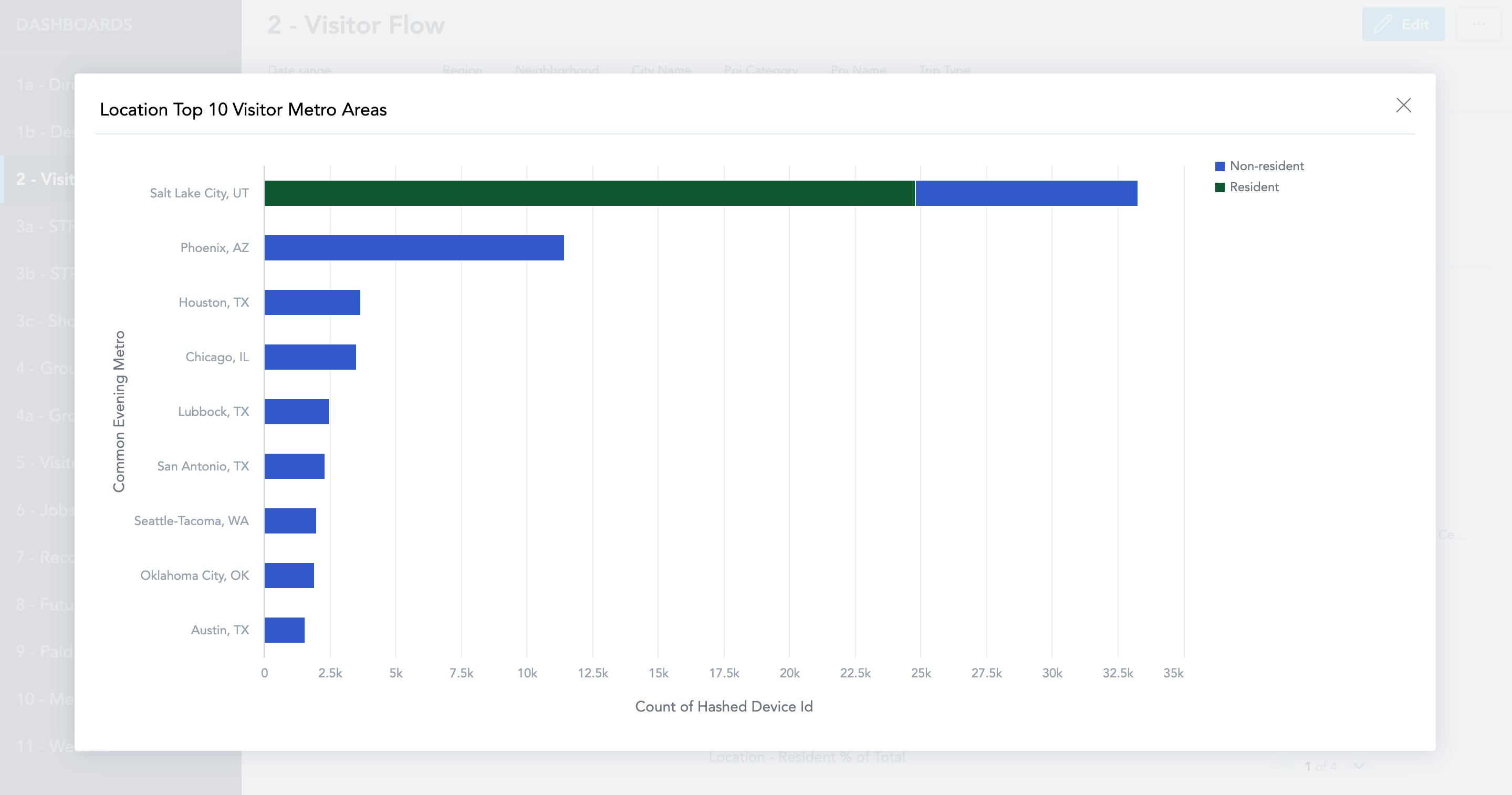 Top Places - Most Popular Places
This visualization drills down to illuminate your top ten POIs.

Need more help? Talk to a real human.