What's the primary purpose of the Destination Awareness module?
The following overview is from the Zartico OS 2.0.
This module is mission control for you, the DMO leader, and is designed to be the first place you'll go to begin reviewing how your destination is performing. This will be the weekly intelligence briefing you present at your monthly "all hands" meeting and is the core of the board intelligence brief. Therefore, it encompasses the key aspects of your destination's performance.
Additional key benefits:
Brings together multiple data sources (Google Analytics, STR, UberMedia location data, tax, Bureau of Labor, and Statistics) to provide situational awareness for you.
While this module is designed for the leadership to view, it also has value in providing alignment for all team members to see how the destination is performing as a whole.
Provides a quick reference for you in answering key questions for stakeholders, board members, press, etc. without having to spend a lot of time seeking out those answers.
Items to highlight that are indicative of the full platform, but especially important for DMO leaders:

KPIs at the top of the screen allow you to see at a glance the health of the DMO's key metrics. These can be customized based on your preferences.
The entire module can be delivered at a regular interval in PDF format, to allow the user to choose to have the data come to them rather than having to log in to the platform.
What questions is this module designed to answer?
The following helps you answer stakeholder's questions quickly and contextualize the trends you're seeing for how your destination is performing.
What are the key trends telling us, and how do we take action if it looks like I need to course correct?

How is our destination performing on a series of key goals and performance indicators?

Are we on-pace or off-pace compared to prior years or benchmarks?

Where can we quickly reference key data points related to my destination's performance?
What data visualizations are included in this module?
Destination KPIs
Get quick feedback on your DMO's key metrics. This section is designed to show directional movement over a given time period, as well as provide a high-level overview of the entire module. Here, you can also create and set alert notifications.


Visitor Count
We want to show you Visitor Count on a year-over-year basis, intended to show you any inter-week variability. This will direct you to the Visitor Flow module.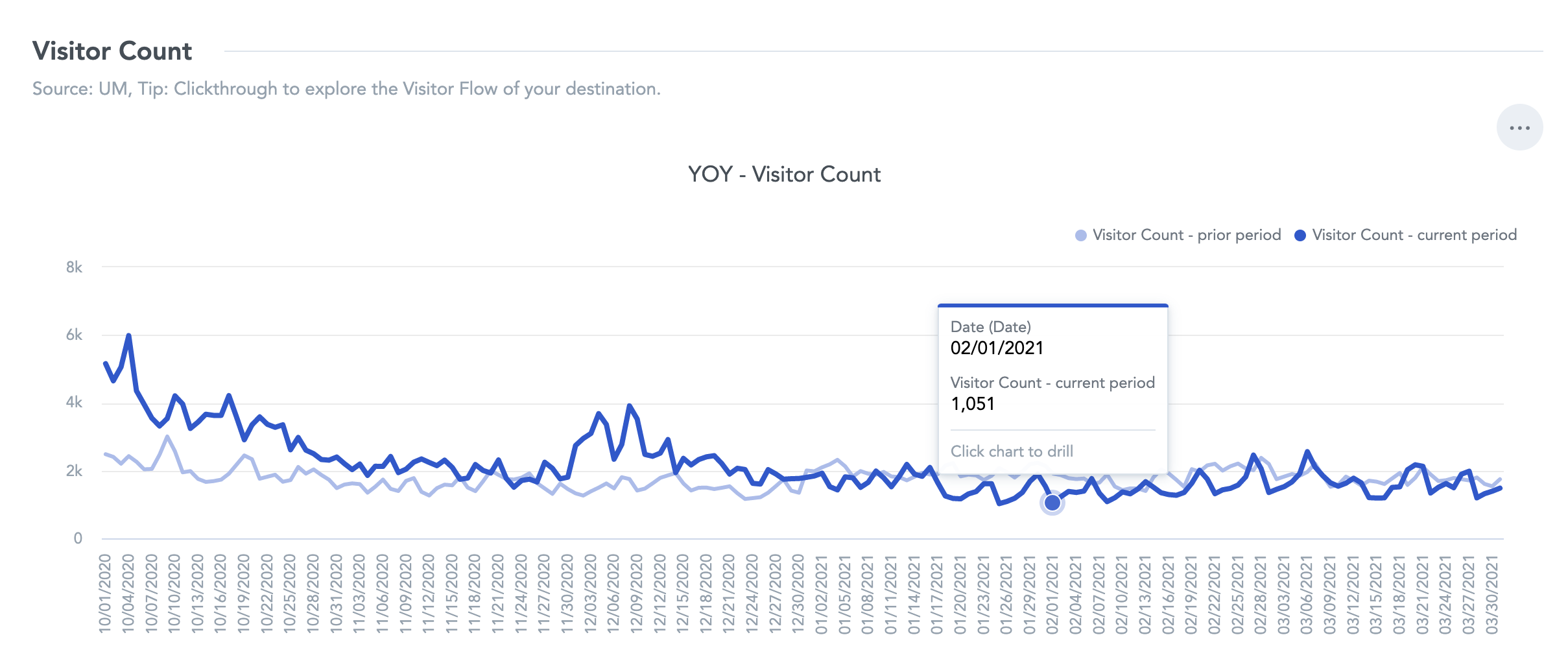 Visitation by Origin Market
This is an interactive map that illuminates visitation by Origin Market. The size of the colored circles is proportionate to the visitor device count. You can hover over each metro area and view the specific visitor count over the two-week period.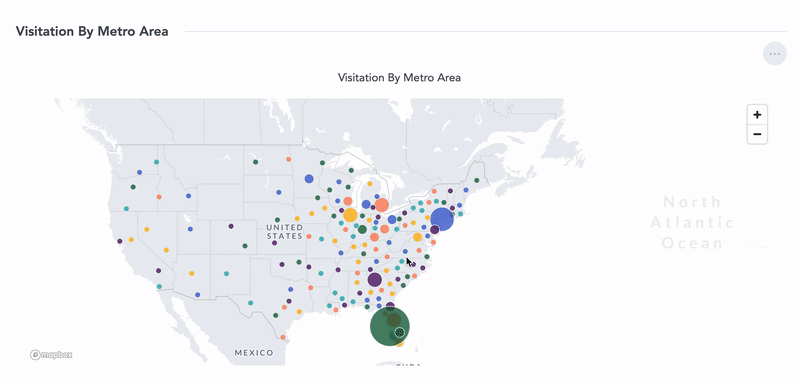 Credit Card Spend by Leisure & Hospitality Industries*
*Coming soon. This will direct you to the Visitor Spending and Taxes module.
Event Attendance
View attendance of events segmented down to a specific neighborhood. We want to provide a data intelligent connection of location data and events that illuminates the economic well-being of your communities.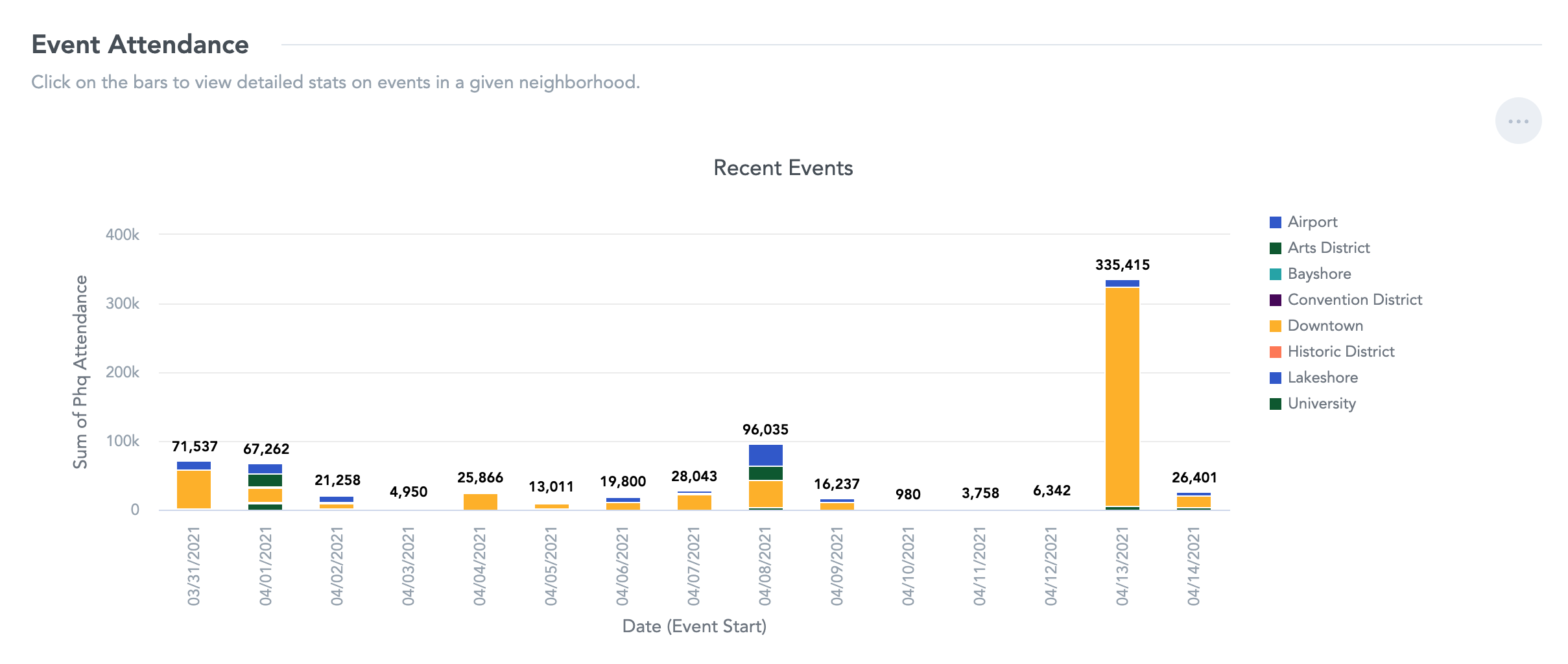 Clicking on the bars will show you detailed stats of the events in a given neighborhood.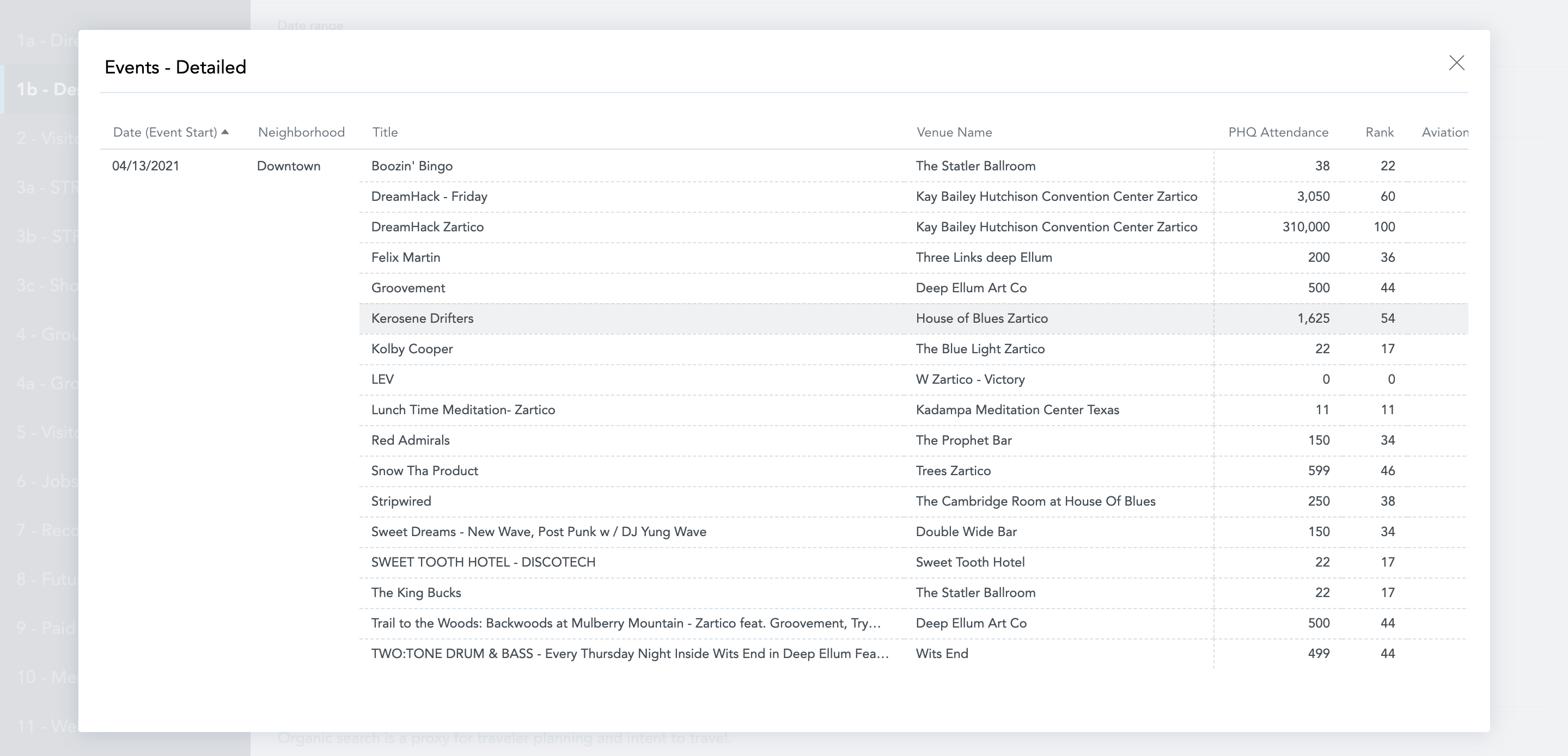 Visitor Intent - Organic Search Outside of Home Market
This data visualization intentionally filters out resident and nearby day-tripper traffic. You can begin to see visitor intent from prospective overnight visitors who would translate to higher economic activity.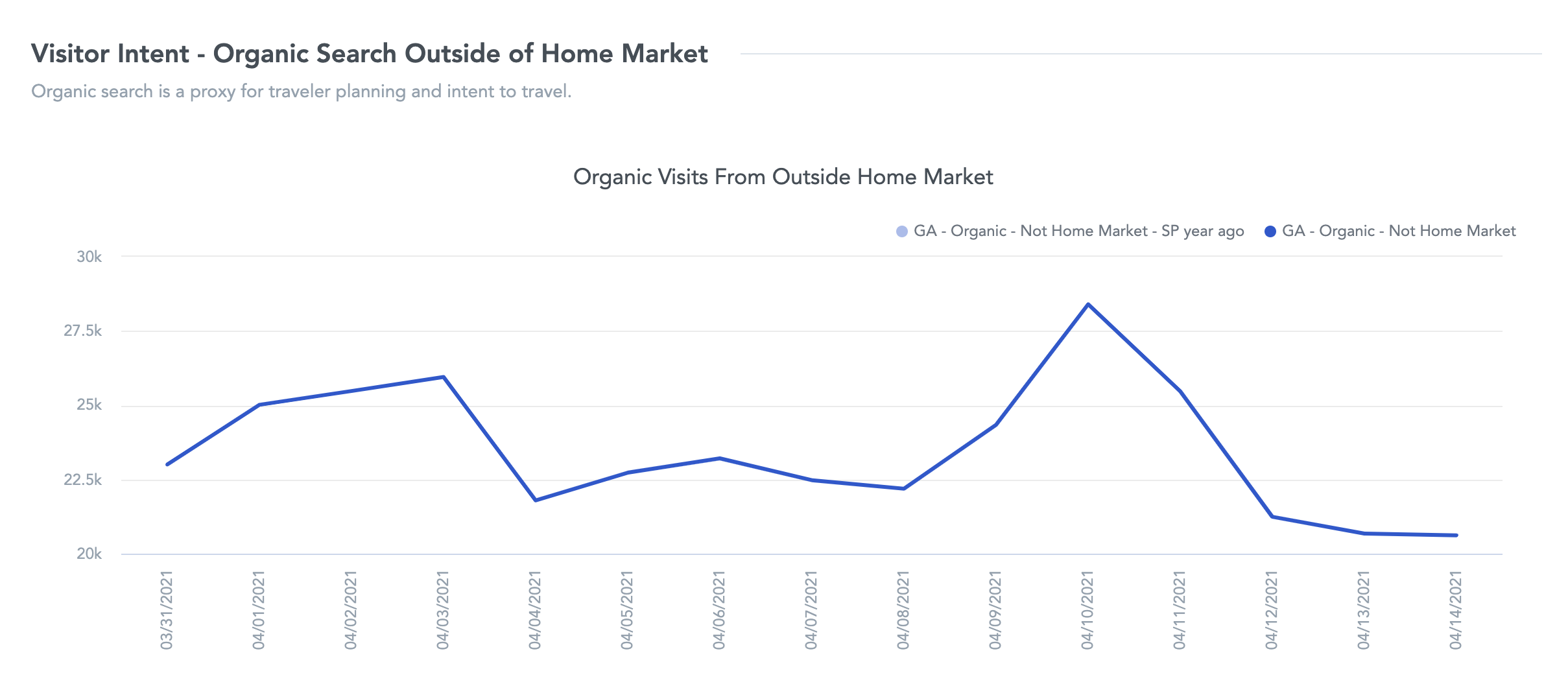 Destination Desirability*
*For those who receive this visualization as a feature of their subscription, this single-question Google survey illuminates the desirability of a destination as a trend over time. Is your DMO driving the right awareness and positive associations (PR, events, viral social media)?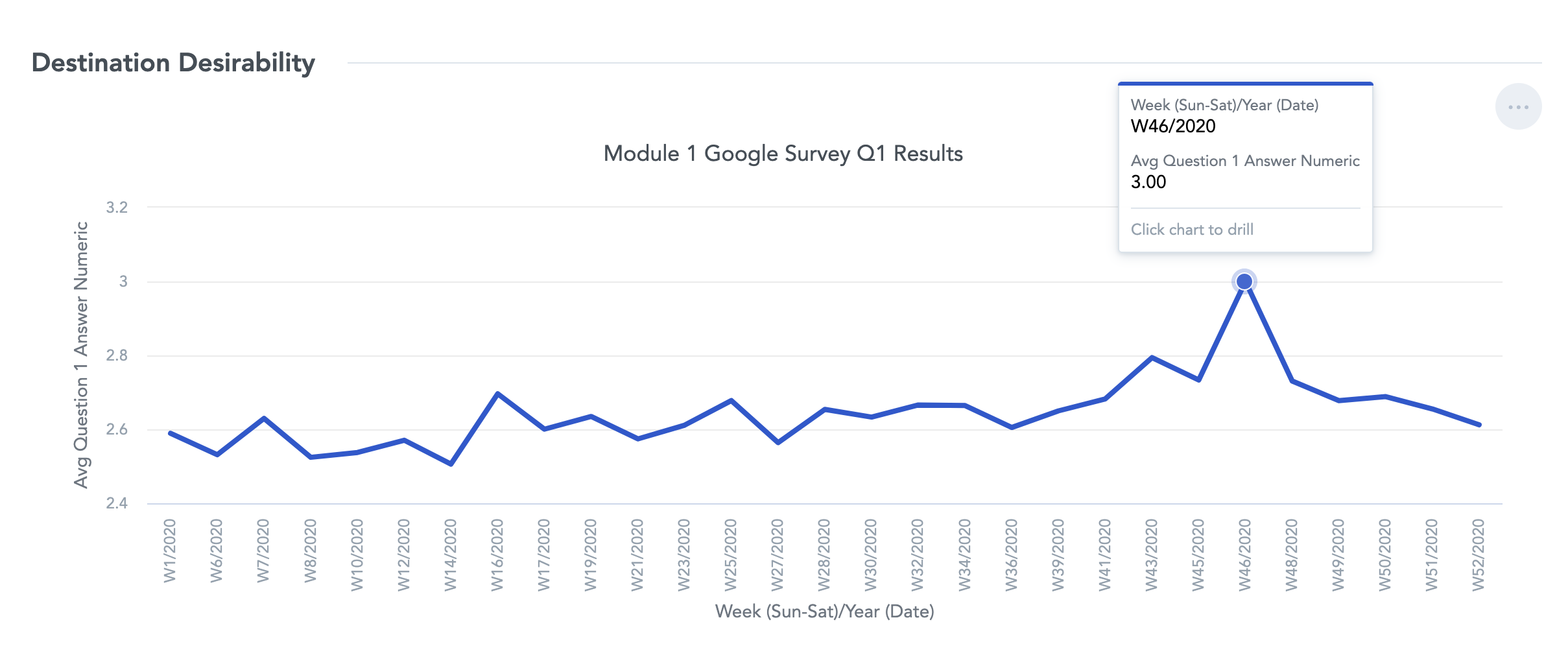 Need more help? Talk to a real human.